You Can Master Any Disaster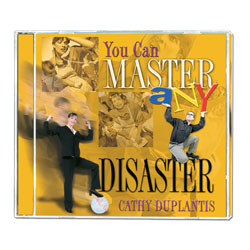 Jesus has made you more than a conqueror and deprived the world of its power to harm you. You are not limited to the natural, you are supernatural! Jesus Christ has anointed you with superhuman power to master any disaster
The devil's worst nightmare is a child of God that understands their covenant rights. Once you learn how to act on God's Word and firmly withstand the devil in faith, his days of killing, stealing and destroying are over. He is destined to lose and you are anointed to win.
You can have victory over sin, sickness and poverty!
You can conquer the distress and frustration of this world!
Perfect peace and confidence can rule your heart and mind!
You can take courage and be confident in the finished work of Jesus!
You are powerfully strong, indestructible and very dangerous to the enemy!
Jesus has made you more than a conqueror and deprived the world of its power to harm you. You are not limited to the natural, you are supernatural! Jesus Christ has anointed you with superhuman power to master any disaster!
Includes Two Messages:
You Can Master Any Disaster
The Restraining Force of the Church
Run Time Approximate: Disc 1 - 50 minutes, Disc 2 - 51 minutes