"Word" Books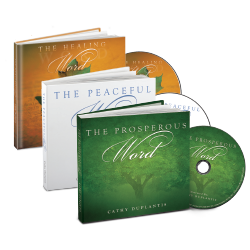 God's Gift of Peace, Healing & Prosperity is for YOU!
This special bundle consists of three of our most popular products, The Healing Word, The Peaceful Word and The Prosperous Word read by Cathy Duplantis.
The perfect gift for this upcoming holiday season, these inspirational books and scripture CDs will minister to you and your loved ones with not only the healing Word of God, but also scriptures that will impart peace to your heart and prosperity to your life.