Heaven: Close Encounters of the God Kind (DVD, CD or Digital Formats)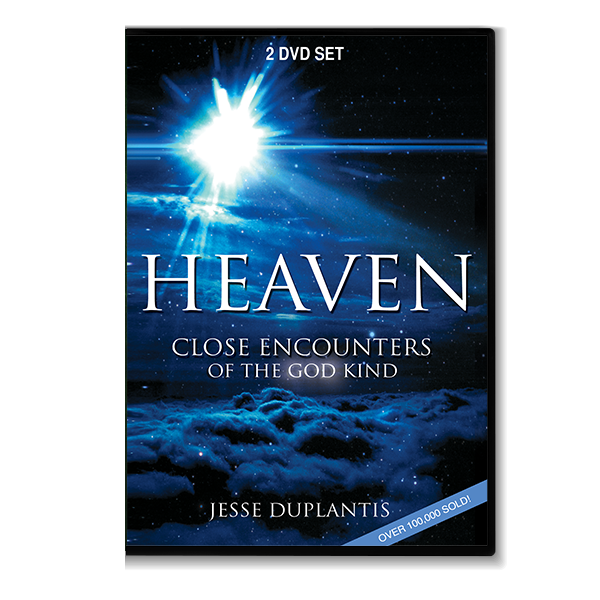 Heaven has often been pictured as a place where everyone sits on fluffy clouds and plays a harp for eternity—the Bible tells us differently. As Jesse says, 'Heaven, it's a great place. You don't want to miss it!'
This testimony has changed lives all around the world. It is a message of hope that is sure to bless you, too!
Heaven has often been pictured as a place where everyone sits on fluffy clouds and plays a harp for eternity. According to the Word, however, this picture is far from the truth. So, what is Heaven really like?
In this amazing testimony, you'll find out as Jesse shares his "close encounters of the God kind" with you! Your faith will be strengthened as Jesse Duplantis shares his most miraculous spiritual encounters, including his supernatural trip to Heaven in 1988! You'll be encouraged as Jesse reveals the answers to such questions as:
• What is Paradise?
• Are there children in Heaven?
• Will I recognize family members?
• Will I really have my own mansion in Heaven?
• What is God's great Throne Room like?
• Plus much more!
As you experience this amazing testimony, it's our prayer that you will understand the great love God has for you and the great future He has for you in Heaven. Start spreading the news that Jesus is coming soon! As Jesse says, "Heaven, it's a great place. You don't want to miss it!"
Order your copy of this special testimony today!
Product Codes: (2 DVD) JDVD028 - (2 CD) JCD2028
*This Special Edition DVD of this message includes bonus features not available on any other format! This Special Edition DVD includes OVER 2 HOURS of BONUS MATERIAL, containing never-before-seen footage, as well as Closed Captioning, English and Spanish Subtitles.
DVD Total Run Time Approximate: 188 minutes