The Battle of Life (PDF)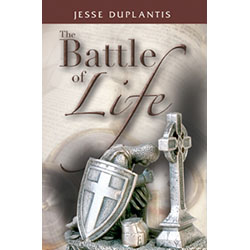 You are destined to WIN! No matter what battle you are facing today, God can help you to overcome it and give you a testimony of victory to share with others! Hard times come in life, that's a fact. But, God has given you a way out of them all! Dr. Jesse Duplantis will inspire you to develop confidence, which you need in the time of battle, and faith in God. You'll learn how to get through opposition, pain and difficulty by leaning on the Word of God and the words of your own mouth.
The Battle May Not Have Been Your Choice,
But the Outcome Can Be!
You may not have chosen sickness, poverty, depression, or whatever your current battle may be, but you have all the power and authority you need to choose how the battle is going to end!
In this powerful teaching, Jesse Duplantis will show you how to overcome life's battles by focusing on the finished work of Jesus Christ. You'll discover the peace of God as you learn to cast your cares on Him and move the battle from the flesh realm to the spirit realm. As Jesse says, "Faith is based in God's power, not your power." Learn to fight for faith, instead of against faith, and consistently use the Word of God in times of trouble. Learn how to win at the battle of life.